Справка на языке оригинала
: Panerai Vintage Marina Militare 6152/1
Rolex Movement - Marina Militare Stamped Dial and Caseback
Official 'Comsubin' Provenance- stamped MM SMZ 103 on caseback
This watch is an official 'Marina Militare' timepiece - Prominently displaying 'Marina Militare' on dial and caseback stamped 'MM SMZ 103' (MM stands for Marina Militare and SMZ is an abbreviation for 'Sommozzatore' which is Italian word for Frogman/Diver)
This watch is representative of Panerai's very unique (and privileged) relationship with Rolex where Panerai sourced complete watches and parts directly from Rolex for fulfilment of MilSpec contracts with special force military groups. To this day, it endures as a very special (and unexplained) relationship the likes of which existed between Rolex and no other watch company in the history of the brand. From the early 1900's and leading up to the eventual sale of Panerai to Vendome Luxury Group (now Richemont), Panerai was known more for being a Military Contractor providing tools to Military Groups rather than selling watches. That may serve to explain how Panerai was able to purchase and sell Rolex manufactured Dials, cases and movements and resell them under the Panerai name and with Panerai stampings.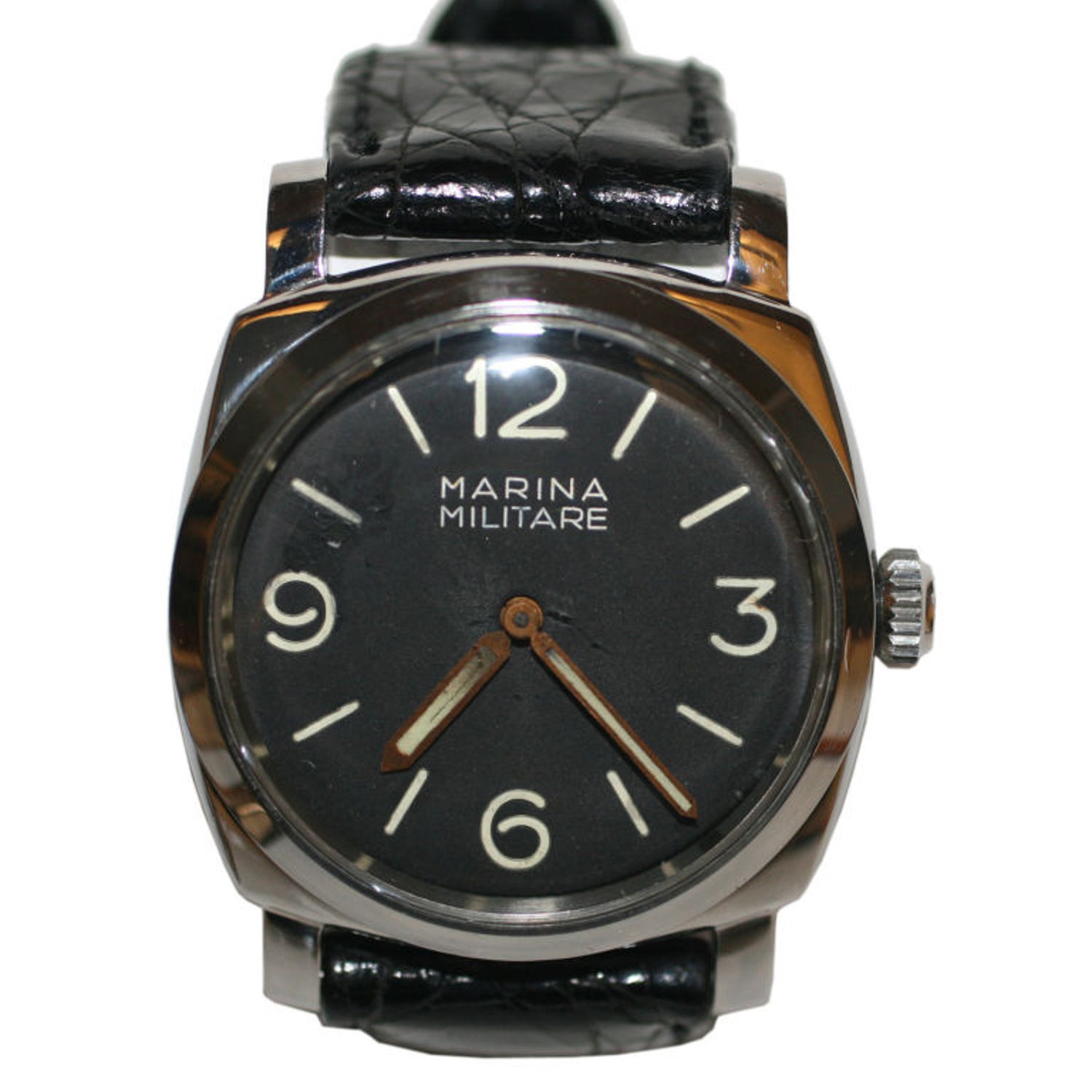 One of Panerai's strongest relationships was with the Italian Marina Militare and Panerai was instrumental in equipping their special force divers with wtaches, depth gauges, compasses and other tactical equipment through COMSUBIN. COMSUBIN (Comando Subacquei Incursori) is first and foremost a secret special operations unit within the MM. Its membership is a fairly well-guarded secret (We could tell you, but then we would have to kill you!!). Their archives are regarded as a national secret. Even so, Official Comsubin records obtained show that this watch, as of 1988 was an official inventoried and tracked timepiece in their inventory. Not sure where this watch was or what it did in the time from when it was manufactured 1940-1950's to 1988 but I bet it if it could talk, oh the stories it would tell!
This watch, based on its Reference number of 6152/1 and its Serial number on inside of case back identifies the case as being made in the 1950's. The serial number of the movement identifies this Rolex movement as being made in the 1940's. It is not uncommon to have mismatched watches with cases and movements from different eras as the cases and movements were frequently stored, set aside and swapped out into different watch cases over the years of their service in the COMSUBIN Marina Militare!
This watch represents the 1940 Radiomir Case design; a hybrid case combining the solid lugs of the Luminor case and the cushion shaped case of the Radiomir. This watch is missing the signature Crown Protector which sort of makes sense since the Crown Protector wasn't invented until 1950 but required a flattening on the side of the case in order to install. The final touch is the oversized Rolex 'Brevet' stamped winding crown gives this watch a truly unique look and feel. The generously oversized 'Brevet' stamped Rolex barrel shaped winding crown screws down flush to the case and is representative of the patented (aka 'Brevet') winding crown found on the original (now Vintage) Rolex 'Big Crown' Submariner.
When they designed the new Radiomir 1940 model released circa 2012, they must have been looking closely at this watch (or one just like it) because this watch is a spitting image of the Radiomir 1940 Ref PAM587 Marina Militare. This is very plausible considering the deep collection of vintage Panerai watches maintained under lock and key in Panerai's archives and museum.
Further research on vintage Panerai 6152 models reveal that Panerai released Ref 6152 stamped models with the patented Crown Lock and with the Brevet Style winding crown, and without distinction in their records. This is probably a result of the cases and movements being swapped around so much over the course of the life of the watch. Once a watch was used, it was disassembled, cleaned, possibly re-cased or swapped with a different movement and then sent out on a soldier's wrist. There was not much clarity or consistency other than the tracking of the case serial numbers and the watches were not considered prized possessions but rather 'tools of the trade.'
Original 'Sandwich' dial is minimalist and iconic PANERAI amplified by the bold 'MARINA MILITARE stamp in center of dial. This watch has been well preserved and the luminous material has formed an amazing (and perfectly matching) vignetting/fading patina throughout the markers on the dial and gold tone hands and everything matches quite perfectly. This is indeed one of the Marina Militare watches that actually saw service, at least on the wrist of a soldier at some time during its life. That much we know.
This watch is a living piece of Panerai/Rolex history, an actual Marina Militare registered timepiece, made by Rolex with confirmed provenance and a storied history. If this watch could talk, oh I bet the stories it could tell. No doubt, this watch is one of the cleanest and crispiest examples of an actual Panerai by Rolex 'Military Use' Marina MIlitare Timepiece you will ever see.
***Bonus: Your purchase of this item will include a Custom Phone Wallet. I've traveled the world and haven't carried a wallet since 2015 thanks to this amazing, handy and awesome rubber wallet. It has a self-adhesive panel that sticks to the back of your Phone. These are available for purchase for between $4.95 and $19.95. Its my gift to you with this purchase. Check it out and let me know what you think, and take my advice, stick this Rubber Wallet to the back of your phone and don't ever carry a wallet again!
All pictures are of the actual item offered for sale. Item is available for in-person inspection, pick-up/delivery in South Florida area. I love international eBay buyers. I have extensive experience shipping items like this to customers around the world and i love doing business with international eBay buyers. I am glad to ship this item to customers anywhere in the world.
Thank you for viewing my auction.
OJ Whatley - Founder, Watch-U-Want (now Watchbox) and EDCaddiction.com
check out my new store: SecondTime, Inc - Hollywood, FL 33021
www.ebay.com/str/ojssecondtime
OJ_secondtime FbIG
Что касается нашего экземпляра , то здесь все еще сложнее. Часы собирались около года . Все комплектующие из разных мест . Цифер делал один из лучших костомайзеров своего времени Ларс Сага из Германии , но мне пришлось изменить конструкцию для того чтобы поместить его в такой тонкий кейс.
Корпус модификация старой версии Ривера . ЗГ от Адриана -8 мм. Стрелы от Гордона из Лондона .